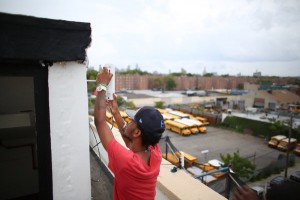 RHI's technology programs focused on training young adults for tech and media careers and providing free WIFI to the neighborhood. Digital Stewards is a paid, 8-month training through which young adults maintain and promote the Red Hook WIFI network, coordinate tech-related projects and events and gain media production skills.
Using their newly renovated "V-Studios," Digital Stewards created an internal production company that designs and creates media, including videos for college
scholarship applications, new hire orientations, technology tutorials and RHI
promotional materials.
"Tech is taking over the world and replacing things everywhere. It's a different world and I have a new outlook. I know what to do."
– RHI Digital Steward