June 10, 2019
BROOKLYN EAGLE: AFTER MONTHS WITHOUT GAS, RED HOOK NYCHA RESIDENTS DEMAND REIMBURSEMENT
When roughly 60 families in the Red Hook Houses had their gas turned off on Feb. 13, many believed it would be a temporary issue — nothing more than a minor inconvenience. But soon days turned to weeks, and weeks turned to months. Though the families had their gas restored late last month, they're now demanding NYCHA reimburse them for money laid out on meals. NYCHA passed out a single hot plate for each apartment, but residents said the device was dangerous and inadequate to cook for large families. Those who tried to use more than one blew their apartment's electric fuse. Read more…
April 19, 2019
CURBED NEW YORK: NEW YORK CITY'S BEST URBAN FARMS
When most people think of urban farming in New York City, they picture a bearded Brooklynite picking kale from atop a warehouse while drinking a home-brewed beer. And while that person does exist, there are a lot of other farms in this city that don't fit the stereotype. From a 19-year-old garden in East New York to a cooperative farm on a formerly vacant South Bronx lot, every borough plays host to at least one urban farm, and we've mapped 17 of the most notable ones here. Red Hook Farms is one of New York City's older urban farms. It started in 2001, and every year, the 2.5-acre plot produces enough vegetables for a neighborhood CSA. Read more…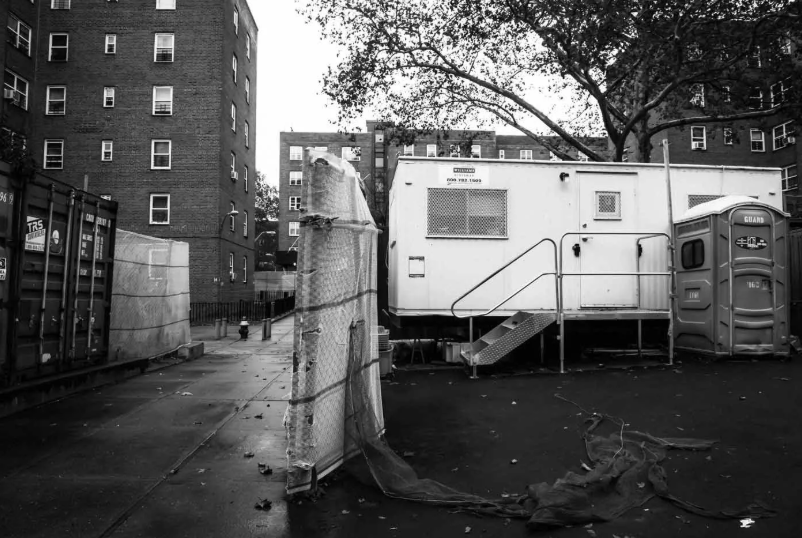 January 29, 2019
THE NATION: IS NEW YORK CITY'S PUBLIC HOUSING READY FOR THE NEXT STORM?
In the meeting room at Red Hook Initiative (RHI) a large painting hangs high up on the wall, bordered by the words "rebound and rebuild." It shows the neighborhood of Red Hook in the aftermath of Superstorm Sandy, with waves crashing on a row of sandbags, as cans of food, light bulbs, and batteries lie strewn about haphazardly. Last summer a group of residents of Red Hook's public housing developments, just across the street from RHI gathered here for the meeting of RHI's 10-week emergency-preparedness training, called "Local Leaders." Read more…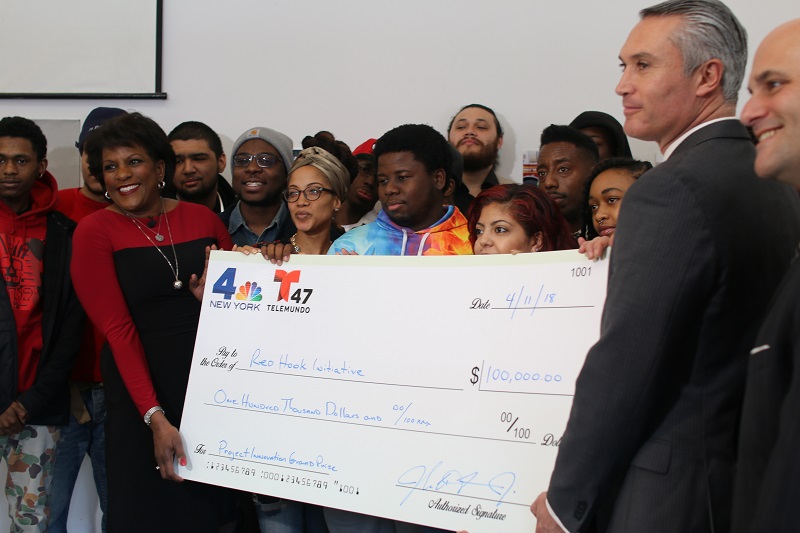 April 23, 2018
NYSenate: RED HOOK INITIATIVE WINS THE NBCUNIVERSAL FOUNDATION "PROJECT INNOVATION" COMPETITION FOR DIGITAL STEWARDS
NBC New York and Telemundo 47 present a $100K check to Red Hook Initiative as the Grand Prize Winner of the NBC Universal Foundation's "Project Innovation" grant competition. RHI's Digital Stewards program was recognized for preparing low-income young adults for tech careers by training them to install/maintain Red Hook WIFI, a community effort to close the digital divide, create economic opportunity and improve quality of life in Red Hook. Read more…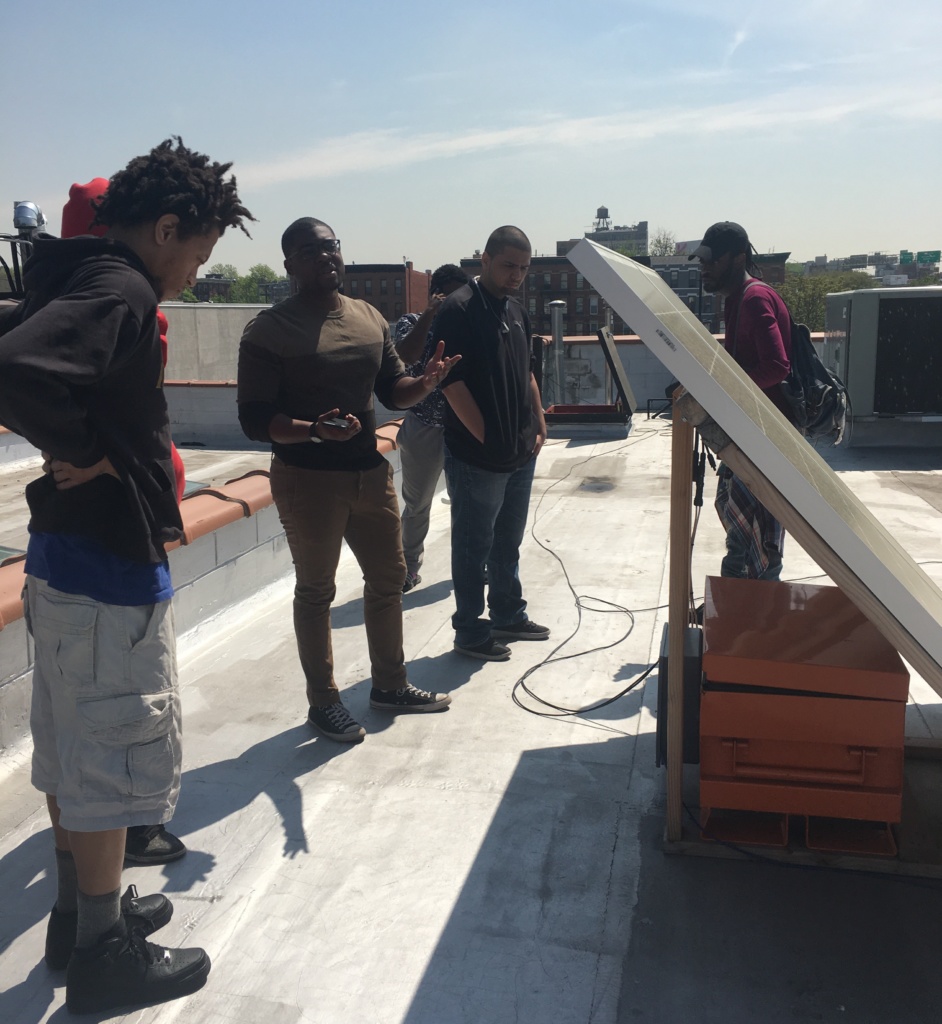 February 2, 2018
PBS: WHEN DISASTER STRIKES, HOW DO WE COMMUNICATE?
When Superstorm Sandy hit, residents of the Red Hook Houses, the largest public housing development in Brooklyn with over 7,000 residents, struggled without power and clean water for almost a month. Instead of waiting for help, residents and civic groups transformed themselves from storm victims to storm responders. Meet the local leaders who are stepping up to the plate and taking emergency preparedness into their own hands including installing and expanding a free, solar-powered Wi-Fi network to make sure that communication is always possible when disaster strikes. With climate change, sea level rise, and another superstorm always threats, they're making sure that Red Hook is hooked up. Watch here.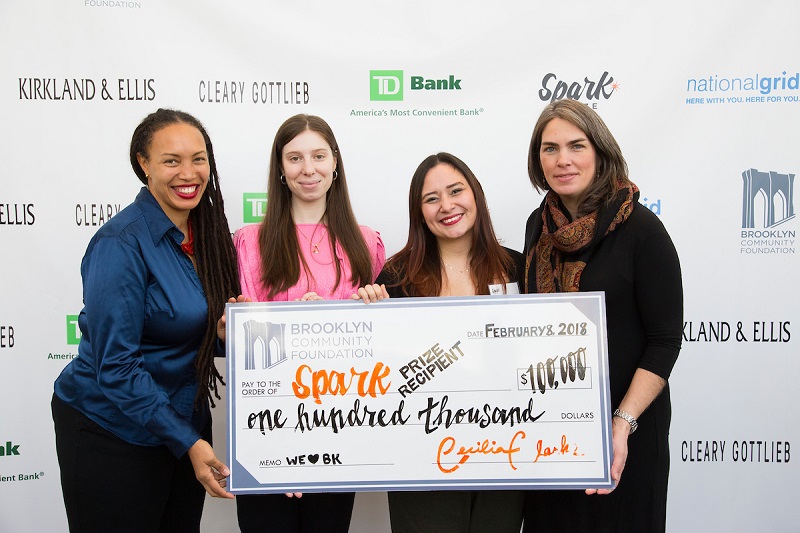 January 10, 2018
Brooklyn Community Foundation: ANNOUNCING THE WINNERS OF OUR $100,000 SPARK PRIZE!
The Spark Prize recognizes outstanding pioneering nonprofit organizations rooted in Brooklyn that have demonstrated a deep commitment to advancing racial and social justice. The organizations were selected from a competitive pool of over 130 applicants by a distinguished committee of 30 members representing Brooklyn's civic, business, and philanthropic communities. "As Brooklyn's community foundation, we take immense pride in lifting up longstanding local nonprofits that exemplify our borough's creativity and innovation as well as deep commitment to justice and social change," said Brooklyn Community Foundation President and CEO Cecilia Clarke. "Our hope is that the Spark Prize not only fuels the growth and success of these five powerful organizations, but also attracts much needed attention and additional investment in their work."
BROOKLYN PATCH: RED HOOK CONCRETE PLAYGROUND WILL BE TRANSFORMED INTO SKATE PARK AND PLAY AREA
And a group of young people in the neighborhood helped make it happen.
RED HOOK, BROOKLYN — An old, concrete playground in Red Hook is getting an infusion of public money so it can be transformed into a skate park and play area.
The Harold Ickes Playground, on the corner of Hamilton Avenue and Van Brunt Street, has long been neglected at the edge of the industrial neighborhood.
Right now, the spaces is all pavement and concrete, with a rundown softball or kickball court on one side of it. A group of kids in the neighborhood, though, got together and worked with local officials to make sure it got the attention it needs.
October 27, 2016
DAILY NEWS: NYCHA PAINTS OVER BROOKLYN HOUSING PROJECT'S TOXIC MOLD ISSUE, WHICH CONTINUES TO PUT TENANTS AT RISK YEARS AFTER HURRICANE SANDY
By Reuven Blau
Toxic mold continues to plague the Red Hook public housing complex four years after it was hit hard by Hurricane Sandy, according to a survey released Thursday.
The survey by the Red Hook Initiative finds that out of 280 respondents of the Red Hook Houses, 40% said they currently have mold and 94% have had leaks and mold in the past.
"It is completely unacceptable," said Jill Eisenhard, the founder of the Red Hook Initiative. "It is at the stage to becoming a public health crisis. We need to hold people accountable." Read more…
Fourteen community organizations – with eight serving Brooklyn – have received grants in an innovative program spearheaded by First Lady Chirlane McCray to provide mental health care in existing neighborhood facilities.
At Red Hook Initiative on Friday, McCray told reporters that a bedrock of the funding was a $10 million social-innovation grant from the Corporation for National and Community Service.
McCray said that for her, "the groundbreaking potential of Connections to Care can be summed up with one big number – 40,000. That is how many New Yorkers will receive mental health care over the next five years with this initiative. That means 40,000 New Yorkers who will be able to talk about their issues and challenges in a place they trust, with people they trust." Read more…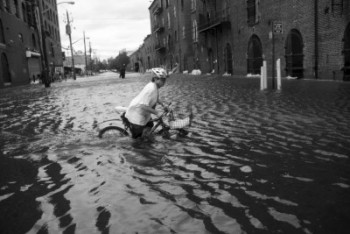 October 27, 2015
The New Yorker: IS NEW YORK READY FOR ANOTHER SANDY?
By Eric Klinenberg
Hurricane Patricia, which hit southwestern Mexico last weekend, was the largest recorded hurricane to make landfall off the Pacific, but it was not the only historic storm this October. At the beginning of the month, a tropical weather system formed southwest of Bermuda and intensified into a Category 4 hurricane, with heavy rain and surface winds reaching a hundred and fifty-five miles per hour. Meteorologists called it Joaquin, and predicted that the dangerous storm would soon turn northeast. According to their models, New York City and the surrounding coastal region fell directly within the "cone of uncertainty" where Joaquin could make landfall. New York Governor Andrew Cuomo activated the State Emergency Operations Center, and New Jersey Governor Chris Christie declared a state of emergency, warning that major flooding events were likely. No one wanted to be caught unprepared. Read more…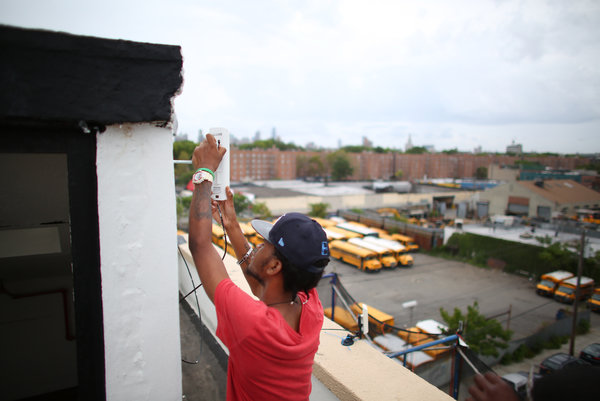 August 22, 2014
The New York Times: RED HOOK'S CUTTING EDGE WIRELESS NETWORK
By Noam Cohen
Robert Smith, a 19-year-old in a gray T-shirt and camouflage pants, climbed the stairwell of the Joseph Miccio Community Center in Red Hook, scaled a ladder at the top floor and jumped onto the roof. He soon found what he was looking for: bright, white plastic boxes, each about the size of a brick, some with little antennas sticking out. Mr. Smith pulled a laptop from his backpack and got to work, tending to the nodes of the Red Hook mesh, an ambitious plan to link up a local wireless digital network across the neighborhood. Read more…